Home
Click on the proceeding's book image, and the download will start.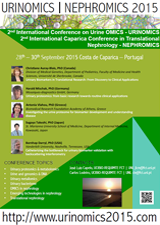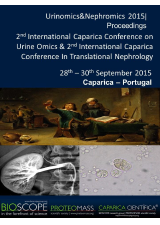 Please note that Exhibition Housing Services, Exhibition Housing Management and Trade Show Housing do not represent the PROTEOMASS Scientific Society nor BIOSCOPE group, nor have PROTEOMASS Scientific Society or BIOSCOPE Group authorized them to use their names or trademarks on information they send out to participants.
Registration at the conference Venue (ALDEIA DOS CAPUCHOS GOLF & SPA) must be done directly with the hotel:
Booking:
Mrs. Pereira, Isabel
For more information about Venue Registration please refers to the conference web site or contact:
And here we are again! After two years of intense work I am sure that all of us have news to share about that incredible sample called urine and that incredible organ called kidney. The journey we started together two years ago is this year going to have a new marvellous meeting in Caparica. Urine is the best storyteller of us. As such it has grown constantly and consistently since we met in 2013: 6817 are the manuscripts published in 2013 and 2014 related with urine and the "omics" field.
The good memories we have from the 2013 meeting, it guarantees a wonderful 2015 meeting. And we indeed believe this is going to happen. Yes… but with some changes.
First we are going to make the schedule less intensive and second we are going to set one evening free, so you may decide between relax at the beach, or visit Lisbon in an organized trip. This trip will include the crossing of the Tajo Estuary by ferry. You may even decide to play golf, or go to the SPA facilities the new venue has available (see more at (http://www.aldeiadoscapuchos.pt/).
And last, but not least, we have some of the best in the arena:
Plenary Speakers:
Christiane Auray-Blais, PhD (Canada)

Division of Medical Genetics, Department of Pediatrics, Faculty of Medicine and Health Sciences, Université de Sherbrooke, Canada

Harald Mischak, PhD (Germany)

Mosaiques-diagnostics GmbH, Germany

Antonia Vlahou, PhD (Greece)

Biomedical Research Foundation Academy of Athens, Greece

Bornhop Darryl, PhD (USA)

Vanderbilt University, Nashville, Tennessee, USA

Sugaya Takeshi, PhD (Japan)

St. Marianna University School of Medicine, Department of Internal Medicine, Kawasaki, Japan
Keynotes:
Franciso J. López, PhD

Instituto de Investigación Biomédica de Salamanca (IBSAL), Group of Theranostics of Renal & Cardiovascular Diseases (TERYC), Universidad de Salamanca, Spain
Please join us!
Contact us to make one slot available for you at jlcm@fct.unl.pt (subject: urinomics2015)
Yours,
J. L. Capelo
C. Lodeiro
Conference Subjects:
Urine and Proteomics.
Urine and Metabolomics.
Urine and Metallomics.
Urine and Genomics & Exosomes.
Urine and Bacteria.
Urine and Virus.
Urine and Diagnosis and Prognosis.
Proteomics in Nephrology.
Genomics in Nephrology.
Metabollomics in Nephrology.
Bacteriomics in Nephrology.
Viromics in Nephrology.
Emerging technologies in Nephrology.
Translational Nephrology.